A once in a life time adventure.
Get ready for the ultimate adrenaline rush with helicopter access white water rafting and kayaking!
Soar into the breathtaking heart of the gorgeous Tararua ranges via a thrilling helicopter ride, equipped with all necessary river gear, delicious food, and a group of fellow thrill-seekers. Then, hold on tight as you embark on a 4-5 hour descent down the wild and wonderful Waiohine river.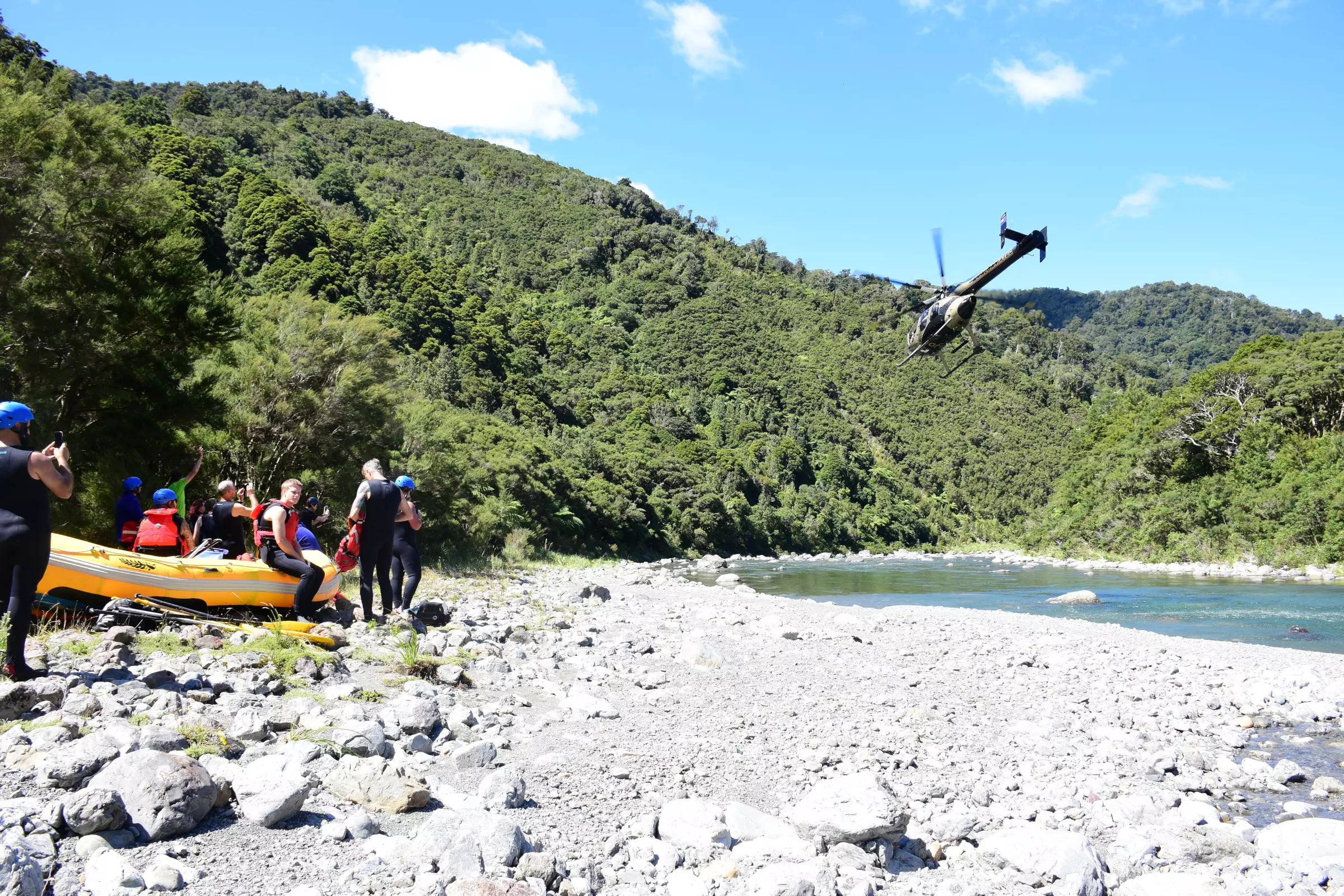 Premium Helicopter Access Whitewater Rafting
The adventure begins with an early morning meeting at Wellington Rafting's headquarters in Upper Hutt where you are sized up with river equipment to keep you safe and warm for the duration of the tour.
We then travel over the scenic Rimutaka hill to arrive at Amalgamated helicopter's base in Carterton, Wairarapa.
All gear and passengers are loaded into the helicopter to then enjoy a spectacular 10 minute flight into the heart of the Tararua ranges to land at the riverside of Totara Flats hut.
Our awesome team of professional river guides prepare the equipment for the 4-5 hour wilderness river journey ahead. We say a karakia to bless our adventure then start an epic 13 kilometer paddle down the emerald green water of the Waiohine river.
The diverse and changing landscapes of the river section is an exciting scenic wonder. Starting with wide open grassy flats with views of natural landslides, travelling through native podocarp and beach forest then as the gorge section begins the river narrows and you will see astonishing waterfalls cascading to the river. 50 exciting Grade 2+ rapids to navigate, epic rock jumps and swimming holes to play in.
We supply a delicious catered lunch spread to enjoy at the river side and our skilled guides will capture the best moments on camera throughout the tour. A great way to appreciate mother nature while having fun with friends, family or the work social group. At the end of the river section a driver will be waiting for transportation back to Wellington.
What's Included
All gear for the river provided.

Transportation to Amalgamated Helicopters and back to our base.

10 minute helicopter flight to Totara Flats.

5 hours on the river.

Catered lunch spread.

High quality photos of the tour.
On request we can provide transportation from Wellington and the Wairarapa and cater the tour to your accommodation location.
Duration: Full day (8-10 hours depending).
* This tour requires a minimum of 2 people per booking and can accomadate a maximum of 24 per people per trip.